Invincible
Posts: 23
Okay, so do you guys remember the big "Joe vs Joseph" debate? If not, no worries. I'll explain everything.
Lets look at a picture of Michael's passports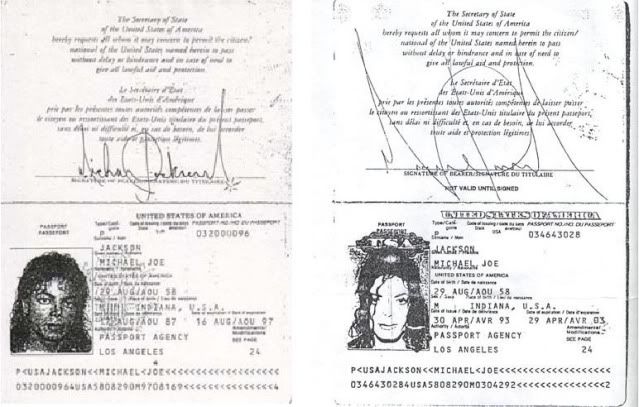 They both state his middle name as "Joe". Therefore his middle name has to be Joe. Why you ask? Well because Passports must include a persons full legal name. No exceptions. Michael may be famous but he is not above the law.


Some people have been questioning this saying "Joe is short for Joseph". So I asked some people who would answer me honestly, people who dont have Michael Jackson as there main point of view. People who dont know the situation. And I got the answers I was expecting. Lets take a look :



I posted that question onto Yahoo Answers. Lets look at the answers I got:


Short, Sweet and too the point.


I guess this smart ass knew I was a girl by my avatar.

Ding Ding! We have a winner!


There you have it.


Im not hiding any answeres from you, as you can see the question was only posted 3 hours ago. Thats every answer I got. I dont think anybody would be lying too me. Nor do I think all of them would be coincidentally wrong.


"Okay, his middle name is Joe. So what?"
Good question, and Im glad you asked! Look here:


You can clearly see his Middle name is stated as Joseph. Im pretty sure Death certificates require full legal names aswell.


What does this mean?
It could mean that the Death Certificate might not be his. It can't be, because that's not his middle name.

http://www.bookrags.com/biography/michael-joe-jackson/


In katherine Jackson's book "My Family" she reffers to his middle name as "Joe"
A mother knows her sons middle name.


Also, if Michaels middle name really is Joe, then that would change everything. As alredy stated it would make his Death Certificate invalid, As well as his will:





Any insurance taken out under the name "Michael Joseph Jackson"


"why would he go by Michael Joseph Jackson, if his middle name is really Joe?"\
I dont know the answer for sure, but When I've asked people in the past the best answer I could come up with is "He doesnt want too be assosiated with Joe Jackson" His father, the beat him.


Why I think he planned this too be a clue in the hoax
If you read my last post it would make sense. If you havent, no worries I'll explain it here.


The speculation for the Elvis Presley death hoax started when Elvis's middle name was spelt differently on his Death Certificate then on his gravestone.
The speculation for Tupac's death hoax started when his name was spelt wrong on his gravestone.


Michael was a smart man. He knew it would start speculation. Just like it has in the past.